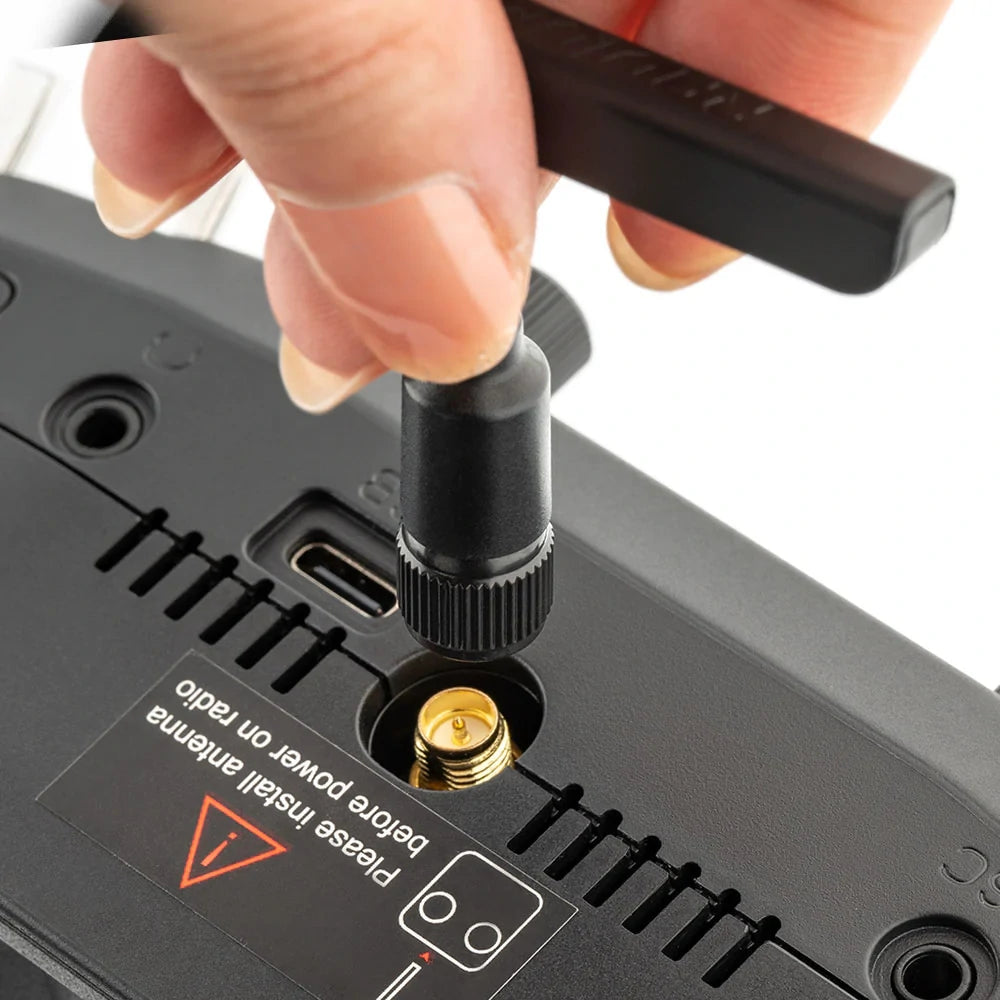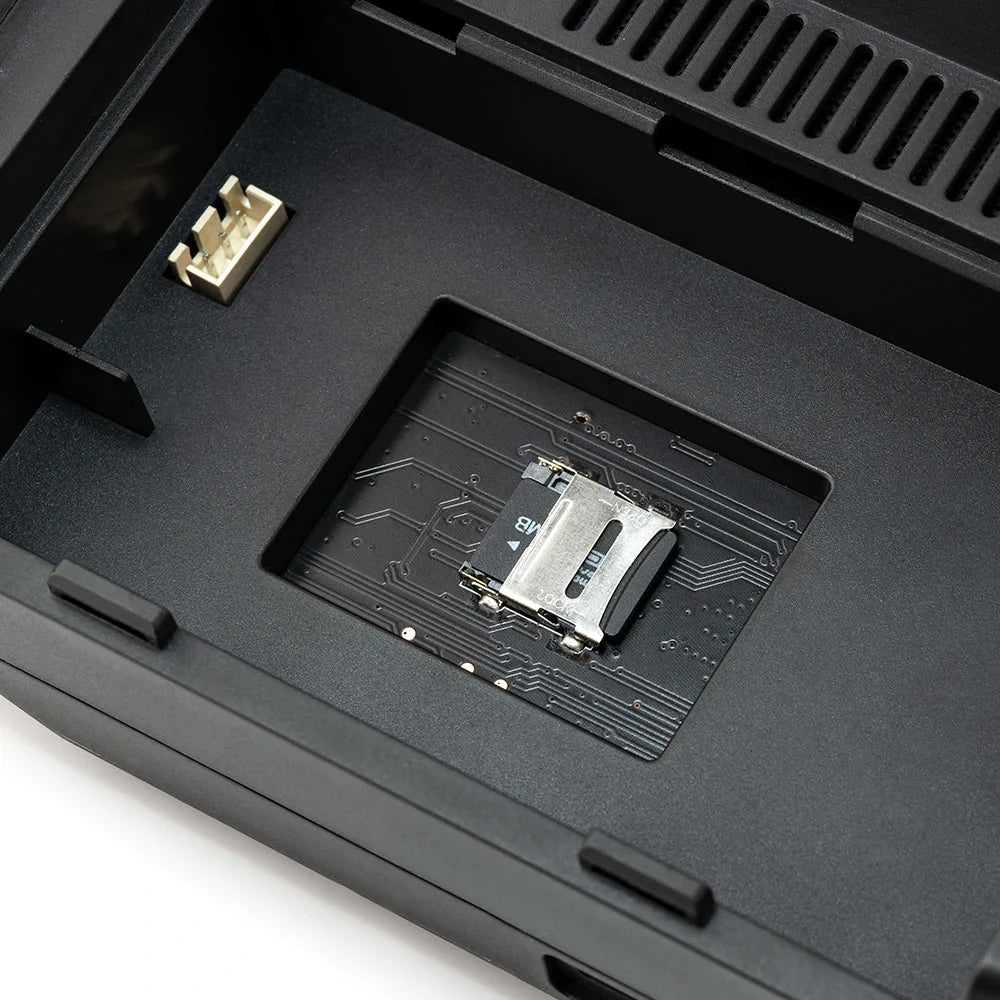 RadioMaster
Boxer
Regular price
$179.99 USD
Sale price
$179.99 USD
Regular price
$179.99
The perfect combination of size and ergonomics make the BOXER an ideal choice for pilots on the go.
Featuring full size hall gimbals for precision control and an intuitive button layout, the BOXER gives you a compact radio without compromising on comfort and function. 
Specification
Item: BOXER Radio
Size: 235*178*77mm
Weight: 532.5g
Frequency: 2.400GHz-2.480GHz
Internal RF Options: CC2500 multi-protocol / 4-in-1 multi-protocol / ELRS 2.4GHz
Supported protocols: Module dependent
Transmitting Power CC2500 and 4IN1: Max 20dBm
Transmitting Power ExpressLRS: Max 30dBm (international) / Max 20dBm (EU LBT)
Cooling fan: Built in (ELRS version)
Voltage Range: 6.6-8.4V DC
Radio Firmware: EdgeTX (Transmitter) / Multi-Module (RF module) / ELRS
Channels: Max 16 channels (Receiver dependent)
Battery: 7.4V 2-cell Lithium-Polymer / Two 3.7V 18650 Lithium-Ion cells (batteries not included)
Display: 128*64 Monochrome LCD display
Gimbal: High precision 4.0 Hall gimbals as standard (AG01 Optional)
External module: JR/FrSKY/Crossfire compatible
Upgrade Method: USB/SD card & EdgeTX Companion PC software
Features
Available with built-in ExpressLRS or 4-in-1/CC2500 MPM RF modules
Featuring a powerful STM32F407VGT6 with 1MB Flash and 192KB RAM
Preinstalled EdgeTX firmware
Internal ELRS module capable of 1,000Hz refresh rate
Adjustable ELRS RF output (30dBm max FCC or 20dBm Max EU LBT)
4-in-1 or CC2500 only version capable of up to 20dBm RF output
QC3.0 fast charging support 2.0A MAX
Compact design with excellent ergonomics
New low-profile latching SE switch and momentary SF switch
Oversized battery compartment- Space for a 2S 6200mAh pack, up to 20-hour duration (Batteries not included)
Full sized V4.0 Hall effect gimbals as standard, upgradable to AG01 CNC Hall effect gimbals
Standard JR module compartment
Internal module cooling fan built in (ELRS version)
RadioMaster standardized button layout
Versatile 6-position switch for flight mode access
Adjustable and Removable T-shape Antenna
Industry first fabric handle for improved portability
Changeable, ergonomic grips
Redesigned SD card slot with pre-loaded SD card included
External module power slots in battery cover
RadioMaster signature carry case and gimbal protector are included as standard to ensure your radio stays safe while on the move
Package Includes
1 * BOXER Radio
1 * Signature Carry Case
1 * T Antenna
1 * USB-C Cable
1 * Gimbal Protector
1 * 1.5mm Allen Key
2 * M4*4 Screws
4 * Low Tension Springs
1 * 18650 Battery Tray
1 * Stickers
1 * Manual
About us
Welcome to OddityRC, a brand that specializes in designing and producing high-performance FPV drones.
Founded in 2021 by two passionate individuals, OddityRC started as a hobby project that eventually transformed into a successful business. With our expertise in industrial design and electronic engineering and a passion for FPV, we aim to provide innovative and reliable products to our customers.
Our journey began with the launch of the XI25 cinewhoop frame in late 2021, followed by the XI20 and XI35 frames. These frames feature a revolutionary aerodynamic design that is lightweight, sturdy, silent, and flexible, making them popular among drone enthusiasts in China and Southeast Asia. 
In mid-2022, we expanded our product line to include motors, electronic parts, and high-performance BNF drones, which have been adopted by various commercial drone pilots for their versatility. Our cinewhoop drones have received positive feedback from our users, and we are proud to showcase their work on our website.
In October 2022, we completed the design and production of our first highly integrated BNF drone, the Mage30. With innovative features and great flight performance, the Mage30 has been a hit among our customers. We are currently optimizing the Mage30 based on actual user feedback and will be launching the Mage30 Pro soon, incorporating further improvements to the design.
At OddityRC, we are committed to pushing the boundaries of FPV technology and providing the best products to our customers. We invite you to explore our website and join us in our passion for FPV.
At the same time, we are also seeking business cooperation and product reviewers around the world, if you are interested in, please contact us!
Email address: oddityrc@gmail.com
Whatsapp: +86 138 6292 7543
Shipping Policy
About Free Shipping
We provide global shipping services for products. The relevant shipping costs will be calculated based on your region and the weight of your package. Generally,we offer free shipping on orders over 100$ in non-remote areas.You can check the table below to get information about region,shipping time,shipping cost,etc.
NOTE
1) Please refer to the order checkout page for the final shipping fee.
2) Remote countries or regions do not participate in free shipping.
3) In most cases, we use CNE Express to ship accessories and YANWEN Express to ship drones. 
           You can track your orders here 
           CNE Express:https://www.cne.com/English/
           YANWEN Express:https://www.yw56.com.cn/en/
4) If you want us to ship with special shipping way, please contact us to note your order. The shipping cost incurred by the new shipping method needs to be borne by you.
Shipping Time
All orders will be processed within 3 workdays after payment settlement. In most cases, the product wil be delivered to the destination within 15days. The parcels won't be ship or deliver on weekends or holidays. If we are experiencing a large quantities of orders or the product within your order is out of stock, shipment may be delayed for several days. We will do our best to get you the product as soon as possible.
Tracking Your Order
In most cases, we use CNE Express to ship accessories and YANWEN Express to ship drones. 
You can track your orders here 
CNE Express:https://www.cne.com/English/
YANWEN Express:https://www.yw56.com.cn/en/
If there is any problem, please contact us by email : oddityrc@gmail.com
About Custom Tax
Taxes for importing goods may be charged and regulated by the local custom. We are not responsible for covering the import tax on products.
Wrong Address
We recommend that you carefully check the delivery address you filled in before payment. The address cannot be modified after the product is dispatched. If you find that the address information is incorrectly filled, please contact us immediately(oddityrc@gmail.com). If the product has not been shipped, we can change the address information for you.
Contact us
Send an email to oddityrc@gmail.com
Return Policy
OddityRC offers a 15 days return policy for your orders. Hope you have a great shopping experience.
Returnable Products
Products that can be returned within 15 days must meet the following conditions:
The product you received does not match the contents of your order.
The product you received is damaged/partially missing.
The product you received has out-of-the-box quality control issues.
The product you received which is unused and unworn failed to meet your expectations.
All returns must be authorized by our Team via email. Products which are returned without comfirmation will not be accepted.
You can contact us in the following way: Email : oddityrc@gmail.com
Unreturnable Products
Products can not be returned in any of the following situations :
Product which has been received for more than 15 days.
Product which has been used,worn or damaged.
Product which is purchased through unofficial channels.
Product without a proof of purchase.
NOTE
If the product you received does not match the contents of your order, you can contact us. After verification, we will reissue the items for you free of charge.
If the product has out-of-the-box quality control issues, you can contact us. After verification, we will replace the defective part free of charge.
If the product you received is damaged or defective after the transit, you can contact us. After verification, we will offer you a discount code for a new replacement.
If you decide to return the product(And the return is authorized by our Team), all related costs arising therefrom shall be borne by you (shipping costs, customs duties, taxes, customs clearance,and other costs).We will give you a refund for your order after receiving the returned product(s) and confirming that the return conditions are met.
Return Process
If your product is returnable(see above),please send us an email and provide the following information:

A valid proof-of-purchase
Order number
Product name
Reason for return

We will provide you our return address and relevant notes.
Please return the product and send us the tracking number.
Once we have received the returned product, we will email you and arrange a refund of your order after checking the product.
Contact us
Send an email to oddityrc@gmail.com
The final interpretation belongs to OddityRC.